Redefine your Lab-based Learning with Lt Platform
September 29, 2020 @ 2:00 pm
Event Navigation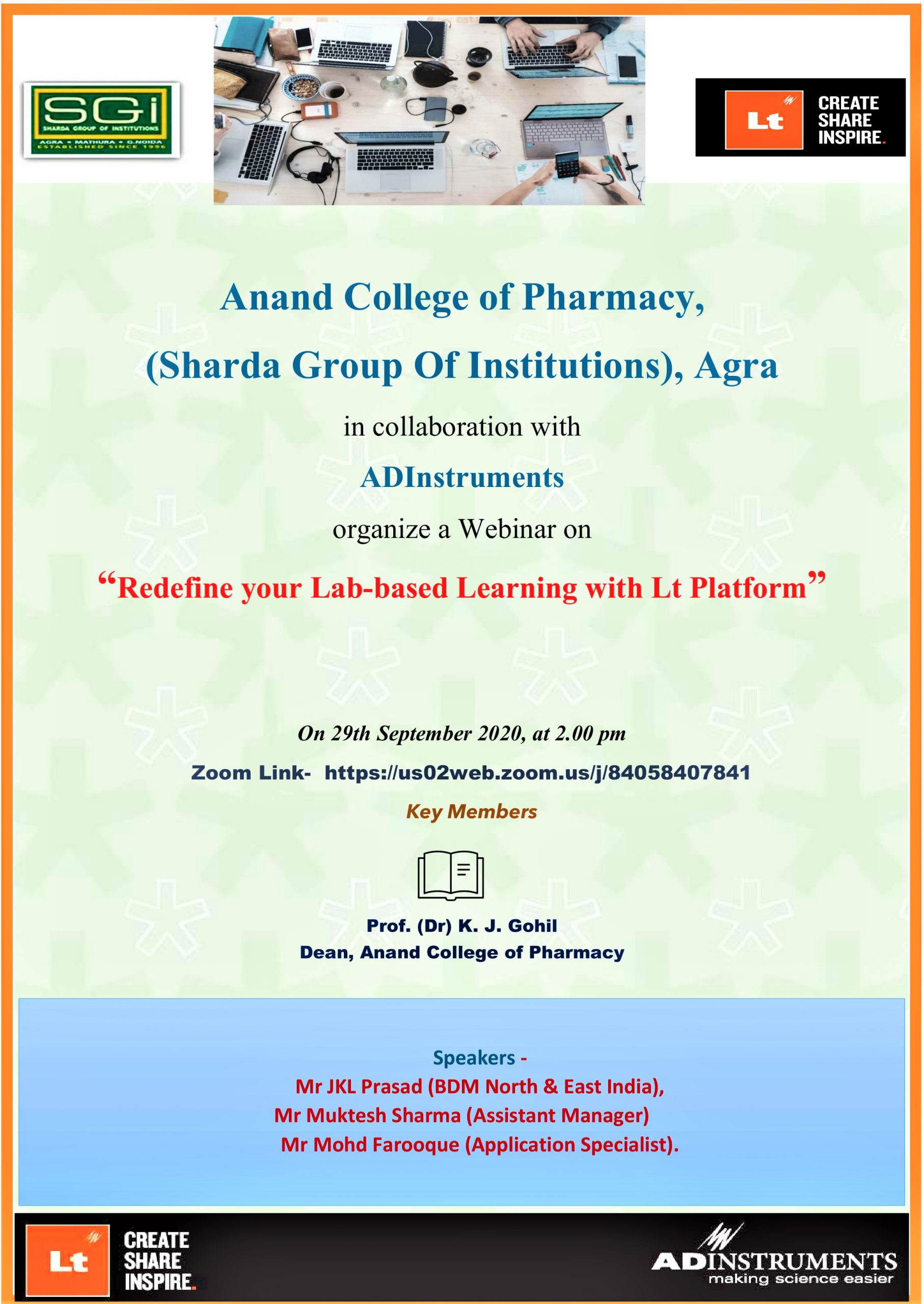 We are glad to inform that Anand College of Pharmacy (SGI, Agra) organized Webinar on "Redefine your Lab-based Learning with Lt Platform"
A webinar on "Redefine your Lab-based Learning with Lt Platform" was organized at Anand College of Pharmacy   in collaboration with AD Instruments on 29th September, 2020, Tuesday at 2-00 pm to 3-30pm.
Mr. JKL Prasad (BDM North & East India), Mr. Muktesh Sharma (Assistant Manager) Mr. Mohd Farooque (Application Specialist), AD Instruments South Asia (India) Pvt. Ltd, New Delhi, elaborated on software experiments in experimental pharmacology sharing all practical aspects including demonstration of anti-inflammatory and cardiac activities on animal models.
Prof. (Dr) K. J. Gohil, Dean, Anand College of Pharmacy, SGI coordinated this webinar in college to inspire knowledge sharing on interactive learning platform in the unprecedented time of COVID-19. Also the fact that actual animal experiments are banned in primary graduate level keeping with the norms and regulations of CPCSEA, Govt. of India; the online learning mode is the only available mode to learn practical aspects of subjects in Pharmacology.
All faculty members of Anand college of Pharmacy attended the webinar online. Dean commended all participants for the same, emphasizing that these online modes of teaching and learning were the only way out for teachers and students in this pandemic situation and to keep updating their knowledge to assist students better by effective knowledge sharing and updates on latest technologies.