Course Offered - B.Pharm
The B.Pharm programme is a four year programme which aims to provide pharmacy education of excellent quality and focuses on producing future pharmacists who will promote the safe and effective use of medicines, ensuring patient and public safety at all times.
The new B.Pharm curriculum is an outcome-focused curriculum designed to prepare students for their future professional practice. Teaching is integrated covering basic and applied science, clinical and professional practice, all in the context of patient care. Core themes of biological sciences, chemistry and drug delivery, and professional practice are taught within integrated modules based around body systems including: brain and psychiatry; heart and circulatory system; and the endocrine system. Using the body systems we break down barriers between the themes supporting you to learn more effectively. This will be supported by an increasing focus on practice-related learning, as evidenced by placements in repeated companies and institutions.
Eligibility-1st Year
XII (with minimum 50% marks) or (10+2) standard from other Boards with Physics and Chemistry a compulsory subject along with one of following subject:- Mathematics/Bio-Technology/Computer Science/Biology are eligible for admission to Ist Year of B. Pharm. Course offered by private colleges/Institutions of U.P.
Eligibility-2nd Year
Candidates who have passed 2 year Diploma in pharmacy (with minimum 60% marks) from institution recognized by the Board of Technical Education, Lucknow (U.P) are only eligible for admission to Second year of B. Pharm.
Pharmacy graduates students will study the subjects of pharmaceuticals, pharmacology, pharmacognosy, medicinal chemistry and community pharmacy to serve as a health professional. This background will enable them to get employment opportunity in:
Pharmaceutical industry (Production, Analytical testing, Clinical Trials, Marketing etc.).
Community & hospital pharmacy (as a Pharmacist).
Drug development research (as a Scientist).
Quality control management.
and to become a entrepreneur.
Pharmacists are experts in medicines and their uses. Pharmacists have a unique knowledge of medicines from manufacture to their use in patients, spanning discovery, synthesis, formulation, manufacturing, quality assurance, distribution, therapeutics, and monitoring. Pharmacists can now become prescribers, allowing them to care for patients' drug-related needs following medical diagnosis. It is a very flexible career with opportunities for full and part-time working.
.
Typical career path scenarios for Bachelor of Pharmacy are as follows: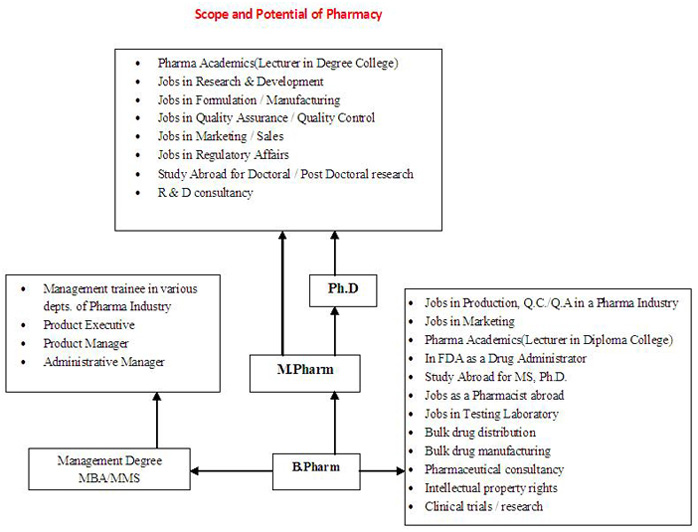 Anand lab Facilities for B.Pharm
Campus recruitment drives were conducted by the following companies:
CEDNA BIOTECH(P) Ltd.
Life cell International Ltd.
IDS INFOTECH Ltd.
Cryobanks International (P) Ltd.
Shreya Life Sciences
Abbott India Pvt. Ltd.
Cord Life India